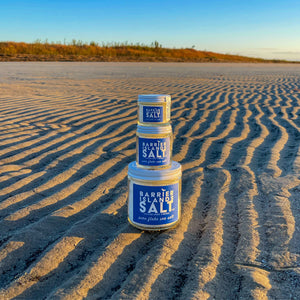 Wildly Pure Sea Salt
Welcome to Barrier Islands Salt Co.!
We're a husband and wife team hand making pure sea salt from the Virginia Coast Reserve, a 130,000 acre coastal wilderness where the water's deep, pure and rich in trace minerals. We use centuries old methods to transform it into a flake finishing salt that's prized by fine dining chefs and food enthusiasts across the country.

We wish you a 2023 filled with good health, happiness and food that feeds your soul! 🤍

- Dave & Anna